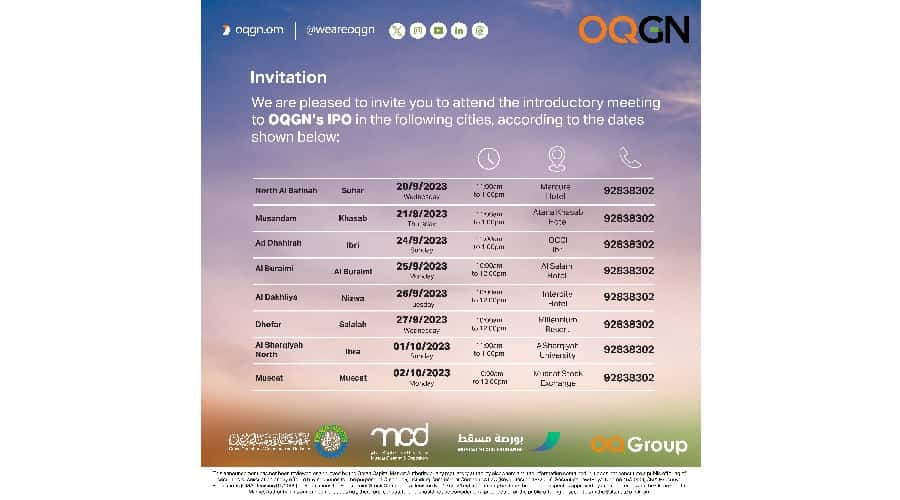 Aimed at introducing its IPO to Omanis and Investors
Muscat: OQGN, the Company, which holds a natural monopoly over essential gas transportation in Oman as the exclusive operator and owner of the Company's natural gas transportation network ("NGTN") in Oman, a part of OQ the global integrated energy group, will be organizing eight roadshows to support the  announcement of its intention to launch its IPO. The roadshows will be carried out in collaboration with the Capital Market Authority (CMA), the Oman Chamber of Commerce and Industry, and offices of Governors and Walis in several governorates. The roadshows, starting on the 20th of  September and ending on the 3rd of  October, aim to educate investors, nationals and residents about the system of subscription in issued shares and targeted categories.
OQGN plans to float up to 49% of its shares, in an offering that will provide investors with access to the company's growth as the exclusive owner and operator of the gas transportation network in the Sultanate.
The first roadshow will be held on the 20th of September in collaboration with the Oman Chamber of Commerce and Industry in the Wilayat of Sohar in Al Batinah North Governorate. The Chamber's branch in the Wilayat of Khasab will host the second roadshow in Musandam Governorate on the 21st of September.
Following this, another roadshow will be held in Al Dhahirah Governorate in the Chamber's branch in the Wilayat of Ibri on the 24th of September. The fourth roadshow will be hosted in the Chamber's branch in Al Buraimi Governorate on the 25th of the same month.
The Wilayat of Nizwa in Ad Dakhiliyah Governorate will host the fifth IPO roadshow on the 26th of September, while the sixth roadshow will be held in the Chamber's branch in Dhofar on the 28th of September.
The last two roadshows will be held in the Wilayat of Ibra in Ash Sharqiyah North Governorate on the 2nd of October and in Muscat Governorate on the 3rd of October, respectively.
Mansoor Ali Al-Abdali, Managing Director of OQGN, said: "This IPO enhances the Government's efforts towards economic diversification, in line with the objectives of Oman Vision 2040.." OQGN's intention to float up to 49% of its shares through an IPO is part of the plans, announced by OIA, to enter into partnerships with the Omani and foreign private sectors with regard to its assets. These plans are designed to expand the investor base in government companies, through public offerings in line with the plans of economic diversification and attracting national and foreign investments. OQGN's IPO reflects the efforts made by OQ to expand investment in its assets, attract foreign investors, and provide broader segments of society access to its ownership with the aim of directing their savings to new investment opportunities, in addition to increasing liquidity on the Muscat Stock Exchange."