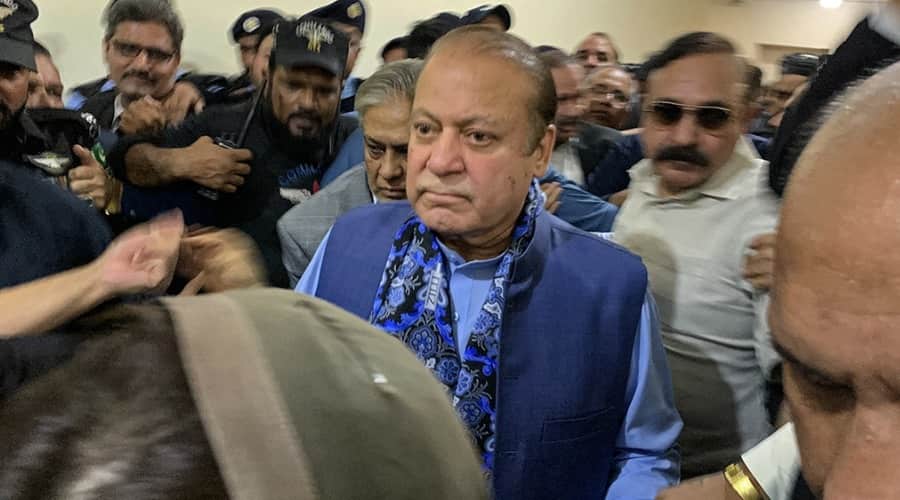 ISLAMABAD: A Pakistan high court granted bail on Tuesday to three-time prime minister and graft convict Nawaz Sharif, his party said, after he returned from exile with a bid to clear his name and contest elections due early next year. Sharif left Pakistan in 2019 part way through a jail sentence to seek medical care in the United Kingdom, ignoring multiple court orders to return under the government of Imran Khan.
But with Khan in custody and out of favor with the military, Sharif has launched yet another political comeback ahead of elections slated for January 2024. Islamabad High Court — where Sharif is appealing two convictions — extended his bail until Thursday, according to Ahsan Iqbal, a senior official in his Pakistan Muslim League-Nawaz (PML-N) party. "We hope that the injustice that was done to him … should be rectified," Iqbal said.
"It is the right of Mr Nawaz Sharif to lead his party, to lead his people, and to lead Pakistan to turn around the country." Earlier in the day his bail in a separate case was confirmed at a graft court in the capital, where supporters showered him with petals as he arrived. "A date will be fixed by the court for when proceedings should start," Sharif's lawyer Naseer Ahmed Bhutta told AFP outside the court.
"He will attend all proceedings that he is required to." Last week Sharif was granted protective bail in all cases, paving the way for his homecoming without the threat of arrest. Analysts say his return was likely smoothed by a deal with the powerful military establishment. "Nawaz is here to be a part of the electoral process and most likely to be the next prime minister of the country," political analyst Tauseef Ahmed Khan told AFP. "It's quite evident that he has reached a rapprochement with the establishment; he will sail through the court proceedings."
'Man of the soil'
Sharif's return has been touted for months by his party, which hopes his political clout and "man of the soil" swagger will revive its flagging popularity. On Saturday he greeted thousands of his supporters at a welcome home rally in his powerbase of Lahore, telling the crowds how much he had missed them.
Sharif has been prime minister three times but has never completed a full term. His political fortunes rise and fall on his relationship with Pakistan's military establishment — the country's true kingmakers who have ruled directly for more than half of its history and continue to enjoy immense power.
His primary opponent Imran Khan, who remains wildly popular in Pakistan particularly among the young population, was on Monday indicted over allegations of leaking state documents.
The charge could see him kept in custody in the lead up to elections. He was already disqualified from contesting polls after being convicted of graft in August, although his three-year prison sentence was later suspended. Khan, who has waged a campaign of defiance against the military which ultimately led to a major crackdown against his Pakistan Tehreek-e-Insaf party, has said the cases against him are politically motivated. – AFP