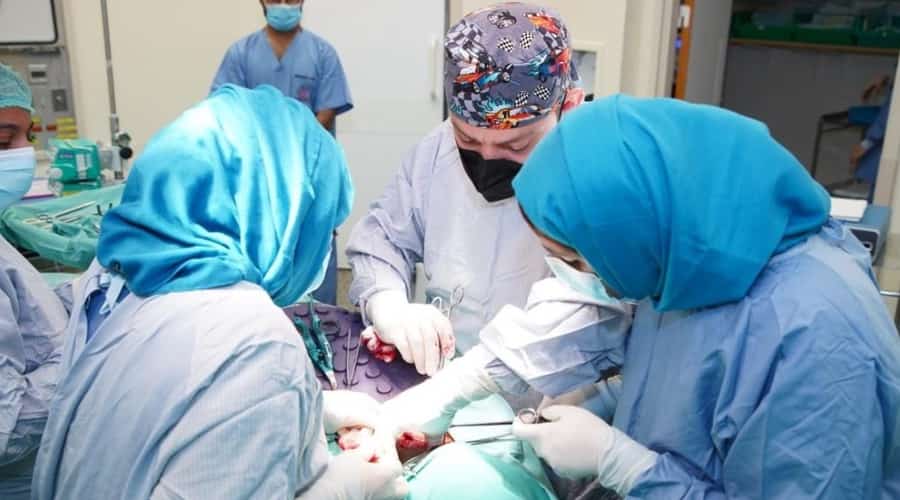 Muscat:  A specialized medical team from Royal Hospital's Surgery Department succeeded in performing a complex operation to remove the adrenal glands and colon of a patient who was suffering from severe high blood pressure due to a tumor in the suprarenal glands and acute inflammation of the colon.
The surgery took about five hours. Dr. Amr Reda, Head of the Department of General Surgery at the Royal Hospital, Consultant endocrine surgeon told Oman News Agency that such operations are considered rare and complex.
The dual surgery was conducted simultaneously, he said. Dr Amr pointed out that the gland removed in the right part of the body weighed 100 grams, while the one on the left weighed 3 kilogrammes –highly disproportionate to the normal size of about 40 grams.
Dr. Amr explained that such cases require special care, since they involve controlling blood pressure while maintaining the body's hydration and protecting it from dehydration. This surgery also required keeping the pressure on the colon under control by removing the distension through endoscopy, he observed. "In addition, such surgeries involve taking other precautions before the patient undergoing surgery, if the patient's clinical condition  so disposes,"Dr Amr said.
He stated that the patient was suffering from a tumor in the adrenal glands, which requires a course of medication and surgery to deal with this health problem. He was seen in the emergency department and was suffering from severe abdominal pain accompanied by a clinical intestinal obstruction, in addition to a sharp rise in blood pressure.
He was subjected to further tests, and it was found that he was suffering from severe colitis and a tumor in the adrenal glands. He pointed out that after the operation, the patient was admitted for only one day in intensive care to ensure the stability of his condition, then he was transferred to the intensive care room and then to the ward, and his condition was later followed up in outpatient clinics and he is in good health.