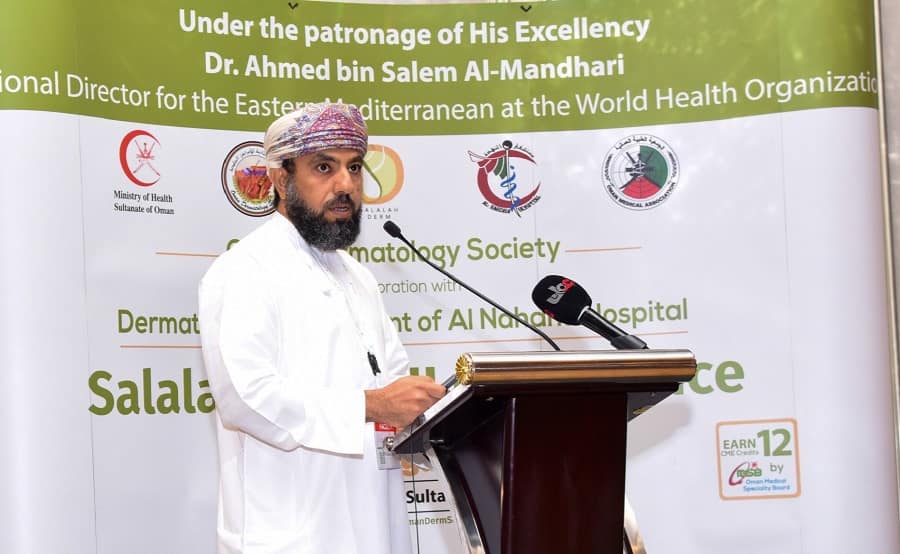 Salalah: The Salalah Derm II Conference , which is organized by the Oman Dermatology Society in cooperation with Al Nahda Hospital, kicked off today 12 & 13 August 2022, under the auspices of Dr. Ahmed bin Salem Al-Mandhari, Director of the World Health Organization for the Eastern Mediterranean Region.
The conference aims to exchange experiences in the field of dermatology and related medical specialties, and discuss international developments and challenges in the diagnosis and treatment of various dermatological and immunological diseases for adults and children, cosmetic medicine, laser, skin cancers, pharmaceutical developments and ethics of practicing the profession of cosmetic medicine. It also aims to give local cadres the opportunity to present studies In addition to reviewing the latest published international studies.
The conference will be attended by 25 lecturers from within the Sultanate of Oman, the Gulf Cooperation Council countries, the United States of America and the Middle East Dermatology Organization.
The conference includes an exhibition for pharmaceutical companies and medical supplies, during which the latest drugs, devices, medical preparations and laser technologies used to treat skin diseases will be presented.
In the opening speech, Dr. Fayza bint Ahmed Al-Ra'i, the conference's president, said: "We are very confident and hopeful for the outcome of this conference in terms of an exchange of knowledge and experiences from experts and specialists regarding developments in the field of dermatology and cosmetology, and its reflection on the development of diagnostic and treatment skills. It will represent an important breakthrough for all workers in this important specialty, and with the distinguished participation of an elite group of specialists, the conference came to serve the various segments of health workers, as well as trainees and specialists in dermatology and cosmetic medicine."
She pointed out that the conference includes several main working papers in addition to workshops covering the topics of dermatoscopy to detect skin tumors, developments of stem cell transplantation in the treatment of vitiligo, therapeutic and cosmetic lasers and cosmetic injections, ethics of the medical cosmetic profession and the role of Omani and international law, in addition to a review of national experiences in Treatment of skin cancer with radiation and biological drugs.
Dr. Aisha Abdullah Al Ali, President of Oman Dermatology Society, explained that holding the conference came within the efforts of the Omani Association for Dermatology to activate scientific activities in the Governorate of Dhofar and the rest of the governorates, in close cooperation between the Omani Association for Dermatology and health institutions, represented by Al Nahda Hospital. Sultan Qaboos University Hospital , Armed Forces Hospital, participating doctors and speakers from the Diwan of Royal Court Medical Complex.