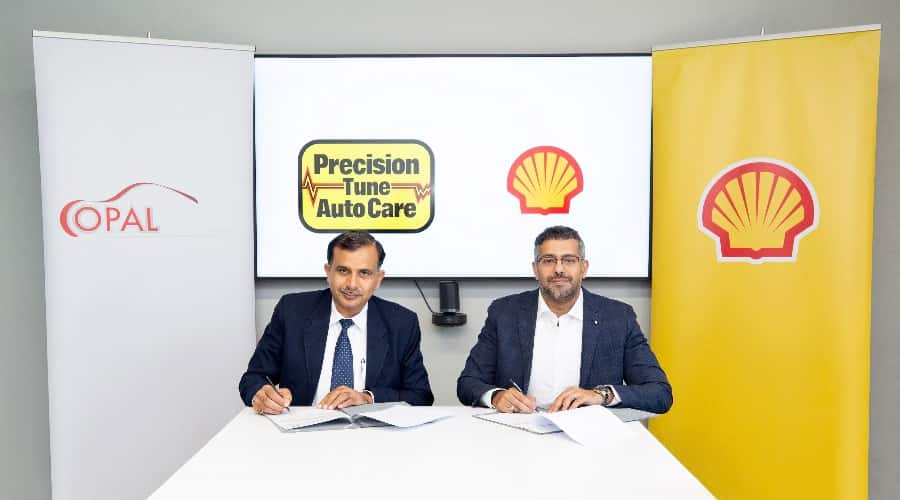 Muscat: Strengthening their 24-year partnership in Oman, Shell Oman Marketing Company (Shell Oman) and Opal Marketing and Industry LLC's Precision Tune Auto Care(PTAC) have signed a strategic agreement to supply Shell Oman's premium lubricants through PTAC's extensive service center network across the Sultanate. This includes the cutting-edge Shell Helix Ultra-premium oil and Shell Helix ultra OW carbon-neutral range of products which are made from natural gas using Shell's patented PurePlus Technology. Emphasizing sustainability, these premium products offer enhanced protection against engine stress and wear, ultimate power, and performance even in extreme temperatures, along with superior piston cleanliness.
Shell Oman and PTAC have fostered a strong partnership built on innovation, customer-centricity, and service excellence. The new agreement brings together Shell Oman's world-class lubricants technology and PTAC's expertise in automotive services, which includes everything from car repairs to routine maintenance, offering customers an unrivalled driving experience and easy accessibility to high-quality lubricants for their vehicles.
Commenting on the partnership, Mohamed El Fatatry, General Manager – Lubricants, Supply Chain & Customer Operations at Shell Oman, said, "We deeply value this enduring collaboration with Precision Tune Auto Care, consistently surpassing customer expectations and delivering unparalleled value. By offering our high-quality, premium lubricants including the carbon-neutral range through Precision Tune Auto Care's expanding network, we have taken a significant step towards minimizing environmental impact and supporting the country's energy transition goals".
Sandeep Ghai, Chief Executive Officer at Opal Marketing, and Industry LLC added saying, "Precision Tune Auto Care network (PTAC) ensures value to their esteemed customers by offering Quality, Time bound Cost-effective service solutions across Oman". PTAC partnership with Shell Oman for the supply of lubricants fosters our commitment of Quality offerings to customers.
Shell Lubricants are produced at a state-of-the-art lubricants blending plant situated in Mina Al Fahal in Muscat, which holds ISO 9001, 14001, and 45001 certifications. This facility produces locally blended lubricants that meet the domestic market demand and exports to over 14 markets regionally & globally. Shell Oman's lubricants blending plant stands as the sole facility in the Sultanate of Oman that produces the preferred 'Made in Oman' Shell products, further underscoring its dedication to the country's economic growth and local manufacturing capabilities.
Precision Tune Auto Care envisions placing its service centers within a 50-kilometer radius of every customer with 59 sites across the Sultanate.
Shell Oman is committed to forging impactful partnerships with leaders from different sectors who share similar ambitions. As we venture into the future, this strategic agreement with Precision Tune Auto Care aligns perfectly with Oman Vision 2040, envisioning a sustainable, green, and circular economy for the Sultanate