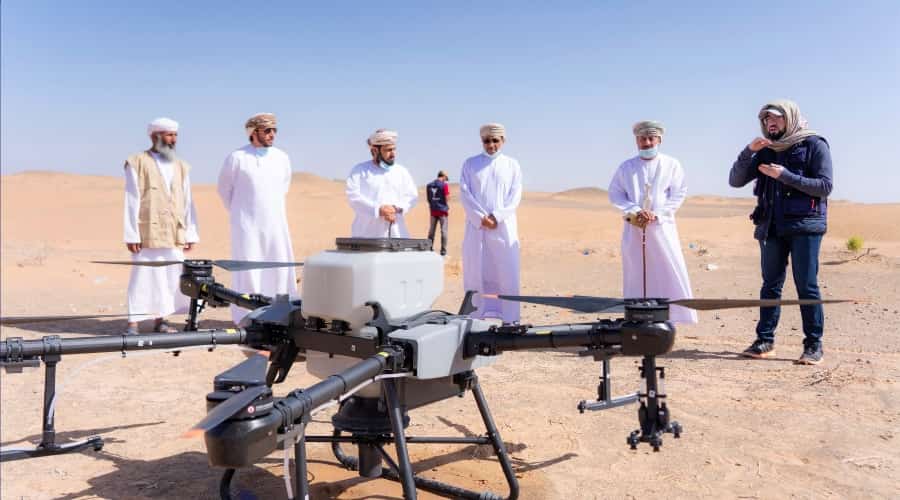 Muscat: The Environment Authority has implemented the third experiment of spreading seeds of wild trees using drones in the Wilayat of Bidiyah in North Al Sharqiyah Governorate
An experiment was carried out to scatter the seeds of wild trees, as part of the efforts of the Environment Agency to implement the national initiative to plant 10 million trees and employ modern technologies in that, where the third experiment of using drones to plant trees was launched in the presence of His Excellency Sheikh Wali Bidiyah and the Engineer Director General of Soun Nature and in the presence of a number of officials and those interested in environmental affairs.
This experiment came after the first experiment was carried out in the Governorate of Dhofar during the Khareef season, while the second experiment was implemented in one of the lagoons affiliated to the Wetland Reserve, by scattering the seeds of mangroves, and the third experiment targeted the desert environment that suffers from dry soil. The addition to this experiment is to spray the area with water using drones after the seeds are spread in the area.
During the experiment, two types of soil were targeted, namely soft soil (desert) and coarse soil, and the Wilayat of Bidiyah in South Al Sharqiyah Governorate was chosen to implement this experiment due to the desertification and encroachment of sand that this region suffers from, and the region is considered a suitable place to implement the experiment.
The area will be continued to be sprayed for a period of one week continuously to ensure that the scattered seeds are saturated with water, and this is by this modern technology (drones), which is the first experiment of its kind, and then the area will be continued to be sprayed once a week until it is confirmed that germination and the results of the experiment appear.