Muscat: Sultan Qaboos University Celebrated the Graduation Ceremony of 1,691 male and female students from the 33rd batch of humanities colleges (College of Law, College of Education, College of Economics and Political Science, and College of Arts and Social Sciences), in the open theater of the university under the patronage of His Excellency Dr. Mahad bin Saeed Baween, Minister of Labour.
At the beginning of the ceremony, His Highness Dr. Dr. Fahd bin Al Julanda bin Majid Al Said, President of Sultan Qaboos University, said in his speech: The university celebrates the graduation of a constellation of its sons and their achievements; It celebrates those who supported them, and contributed to their optimal preparation to reach their graduation day, among the members of the academic, technical and administrative bodies at the university.
Addressing the graduates of the current batch, His Highness said: You enter practical life and take your natural roles in the performance of your duties and tasks; In the service of your country and society, and a contribution to building your present and making your future and the future of your children; You have to carry out these tasks to the fullest, each according to his responsibility and experience, and to be positive and proactive, proactive in every new useful thing, contributing with your knowledge and experience in the renewed renaissance of our beloved country, whose great path is led by His Majesty The Sultan.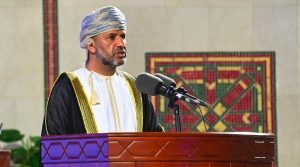 For his part, Dr. Mahahad bin Saeed Bawein, Minister of Labor, patron of the graduation ceremony of the 33rd batch of students from Sultan Qaboos University, said in a statement that this graduation is a starting point for the students' journey in their working lives, and it is the culmination of the years of effort they spent in their studies in all its branches and specializations. It is added to their balance that they have accumulated through years of effort and perseverance.
In pictures: SQU Celebrates 33rd Graduation Ceremony of Humanities Colleges

read more- https://t.co/vS9ERmdtM8 pic.twitter.com/lCHDjWMen9

— Arabian Daily (@arabiandailys) November 6, 2022