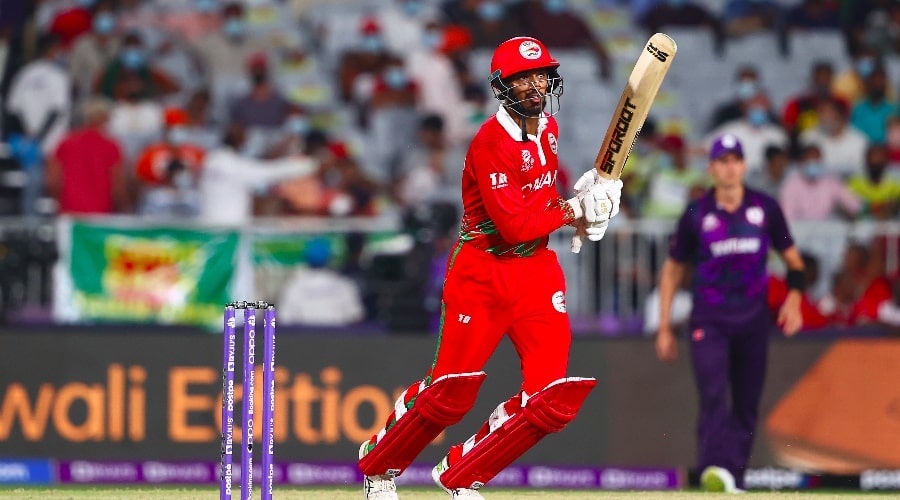 Muscat: Oman has won the toss and opted to bat first
Live update :
6:01 PM: Oman's Jatinder and Aqib are out at the crease for us as our hopes will be pinned on them for a great opening start!
6:03 PM: Jatinder is run-out after a mix-up!
6:07 PM: First maximum by Aqib as we get a move on after losing our first wicket! Oman – 8/1 (1 Over)
6:12 PM: Aqib has been joined by Kashyap at the crease as we aim to stitch a huge partnership! Oman – 12/1 (2 Overs)
6:21 PM: After the wickets of Kashyap and Jatinder, Aqib holds the key as he is joined by Nadeem, Oman – 18/2 (4 Overs)
6:26 PM: A great over for us as Aqib smashes a six and a four from Davey's over! Oman – 31/2 (5 Overs)
6:30 PM: Powerplay done and Aqib has been in stunning form as he's timing the ball with ease! More of the same! Oman – 37/2 (6 Overs)
6:36 PM: The spinners are now operating for Scotland as our batsmen are happy to rotate the strike! Oman – 44/2 (8 Overs)
6:39 PM: 500 runs for Aqib in T20Is as we reach the 50-run mark in that over! Oman – 50/2 (9 Overs)
6:41 PM: Huge wicket down as Aqib walks back for a well made 37!
6:46 PM: Halfway through but we have to make the most of the next 10 overs to reach a strong total! Oman – 53/3 (10 Overs)
6:51 PM: 13 runs from the over as Captain Zee and Nadeem are showing some aggressive intent! Oman – 66/3 (11 Overs)
6:56 PM:  HUGEEEEE!!!!!!!  Nadeem smacks one downtown for a maximum and give us a much needed boost!
7:00 PM: Oman lost Nadeem's wicket in that over after he hit a massive six. Sandeep Goud has joined the captain at the crease. Oman – 81/4 (13 Overs)
7:05 PM: An eventful over where Zeeshan got a massive reprieve after his wicket delivery was called a no-ball! RELIEF! Oman – 86/4 (14 Overs)
7:05 PM: Sandeep Goud is out as we've lost our 5th wicket. Zeeshan should bat out the entire innings as we reach the business end of the innings! Oman – 94/5 (15 Overs)
7:16 PM: Naseem went for a biggie but is caught in the deep, Zeeshan and Suraj Kumar will have to go big in these last 4 overs! Oman – 98/6 (16 Overs)
7:26 PM: Fayyaz and Zeeshan have to go all out in these last 2 overs to take us to a par-score! Oman – 106/7 (18 Overs)
7:32 PM: Fayyaz will take the strike for the final over as we'll aim to extract maximum runs from this over Oman – 116/7 (19 Overs)
7:37 PM: At the end of 20 overs, we have been bowled out for 122 giving a target of 123 for Scotland to chase!
9:11 PM:
SCOTLAND WIN!
They beat Oman comprehensively and finish as the table-toppers in Group B