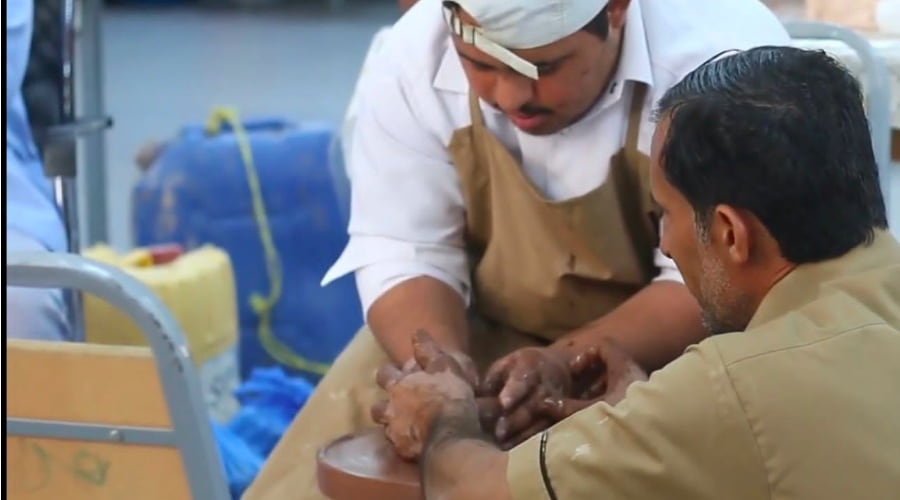 Al-Wafa Center for Rehabilitation of Persons with Disabilities in Bahla, in cooperation with the Business Center and Incubators in Bahla State, implemented a training program in the field of pottery, to train 40 people with disabilities in the production of pottery.
Muhammad bin Khalid al-Qamsawi, director of the Department of Social Development in Bahla State, says: The program included training them on the mechanism of using the electric wheel in the production of pottery using casting moulds.
He added that the project was a great success; It allows the trainees to participate in pottery products in the exhibitions in which the center participates, which has a positive impact on supporting people with disabilities and enhancing their confidence in themselves and their ability to give. The program will continue its efforts in cooperation with the Wafaa Center, the business center and incubators in the state in developing and training them to open a project of their own in the next phase, and a store for them will be opened in Bahla Market in the near future, God willing.
For his part, Zakaria bin Abdullah Al Obaidani, Head of the Business Center and Incubators in the state, said: The craft of pottery is one of the most prominent craft industries for which the Sultanate of Oman and the Wilayat of Bahla in particular are famous. Therefore, the training program included all stages of pottery and porcelain production, and how to manufacture gypsum molds under the supervision of the most skilled potters of the staff.
Salma bint Ahmed Al Riyami, supervisor of the Al-Wafa Center for the Rehabilitation of Persons with Disabilities in Bahla, indicated that the center provides many rehabilitation programs and activities that contribute to the development and encouragement of this category to learn skills that benefit them in their daily lives and their future career, and to practice a craft from which they earn additional income.