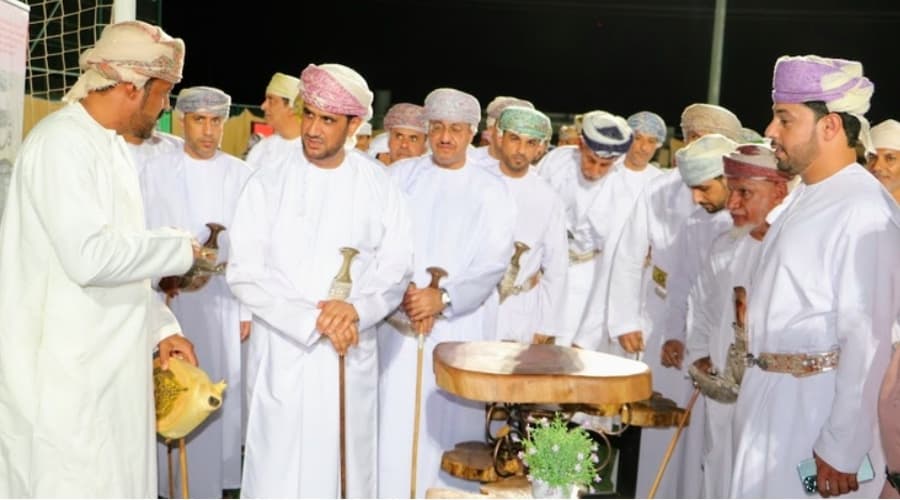 Al Mudaibi: The Wilayat of Al Mudaibi in the Al Sharqiyah North Governorate today held a celebration on the occasion of the 52nd Glorious National Day organized by the Municipality of North Al Sharqiyah in cooperation with the Omani Women's Association and Al Mudaibi Sports Club, under the patronage of His Excellency Sheikh Ali bin Ahmed Al Shamsi, Governor of North A'Sharqiyah.
The festival, which lasts for two days, included an opening ceremony that included the presentation of artistic paintings of Omani chants and sung arts, and the recitation of poems that embody the glorious national occasion. Students of state schools and members of the Omani Women's Association in Al Mudhaibi participated in presenting the ceremony, in addition to presenting expressive patriotic words. in this occasion.
It also included an exhibition accompanying the activities of the festival, which embodied Omani life in the Bedouin and urban environments, the agricultural environment, and the environment of innovation and youth work. This is in addition to presenting a group of youth innovations in the fields of technology, woodwork and plastic arts, various student performances, Omani singing arts, and children's cartoon shows.
The ceremony was attended by His Excellency Sheikh Saud bin Muhammad Al Hinai, the Wali of Al Mudhaibi, Sheikh Shihab bin Hamad Al Balushi, the Wali of Sinaw in delegates, a number of officials and a large number of citizens and residents in the wilayats of the North Al Sharqiyah Governorate.
In Pictures: Wilayat of Al-Mudhaibi Celebrates 52nd National Day

read more – https://t.co/QaKwUKrvmx pic.twitter.com/LFZSSTI7RD

— Arabian Daily (@arabiandailys) November 24, 2022