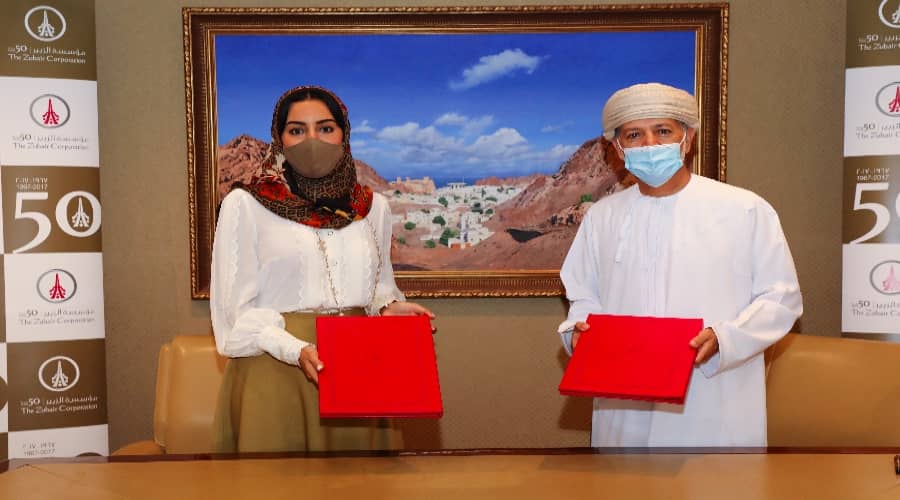 MUSCAT: The Zubair Corporation LLC (Z-Corp) has signed a sponsorship agreement with Injaz Oman to support the ninth edition of the Student Company Programme. Al Zubair M Al Zubair, Vice Chairman, The Zubair Corporation and Khaula Bint Hamoud Al Harthy, Executive Director of INJAZ Oman signed the agreement. The programme falls within the two institutions' strategies to support education, training and entrepreneurship.
Injaz Oman works with students between the ages of 5-24 years through implementing programmes in middle schools, high schools, vocational colleges, and universities. Their various programmes help prepare students for future success in Oman's private sector based on three core pillars including entrepreneurship, work readiness and financial literacy.
While the number of student companies participating this year reached 93, around 924 students from 23 educational institutions are participating from different governorates and regions of the Sultanate in the programme.  Injaz Oman's Student Company Programme aims to enable university students and private colleges to establish real projects after receiving qualification and training during the period of their participation in the program under the supervision of a group of qualified experts in the field of entrepreneurship. The programme consists of 12 sessions, each session lasting one hour.
Commenting on the signing of the agreement, Al Zubair M Al Zubair Vice Chairman, The Zubair Corporation said, "As a private sector organisation we are delighted to be working in partnership with Injaz Oman and support the Omani youth to develop their entrepreneurial skills. Injaz Oman's Student Company Programme complements Z-Corp's social responsibility strategy in championing education, training, and inspiring entrepreneurships. We are also pleased that Zubair SEC, a social responsibility initiative of Z-Corp, has been working closely with Injaz Oman for many years now."
He added, "The Student Company Programme will encourage young aspiring students and create a platform for innovative talent across the country. It will inspire students to craft their own experiences which will empower them to develop an innovative mindset. We are pleased that one of objective of the programme is create innovators and potential job creators of the country."
Thanking Z-Corp for its support, Khaula Bint Hamoud Al Harthy said, "Through Injaz Oman's Student Company Programme, we strive to educate young people about entrepreneurship and motivate them to consider it as a career option. This will encourage them to actively participate in the Sultanate's business sphere. The support from a private sector organisation like Zubair Corporation means a lot to us since this programme helps young people gain awareness about the intricacies and rewards entrepreneurship and business in today's world. We thank them for their faith in the capabilities of our Omani youth. By supporting this programme they are investing in young entrepreneurs, thereby the future of the country."
Student Company Programme offers a unique learning experience for students, helping them to establish their own companies and engage in entrepreneurship. The programme offers a learning experience that enables and enhances many skills, which complement and enrich the students' performance in their academic education.
Student Company Programme is one of Injaz Oman's successful initiatives. Through it, it has discovered and highlighted the talents and capabilities of Omani youth. By participating in this programme, students from diverse academic backgrounds learn about real life business procedures and functions, the challenges and benefits of entrepreneurship, and the contribution that entrepreneurs make to the economies and societies of the region.