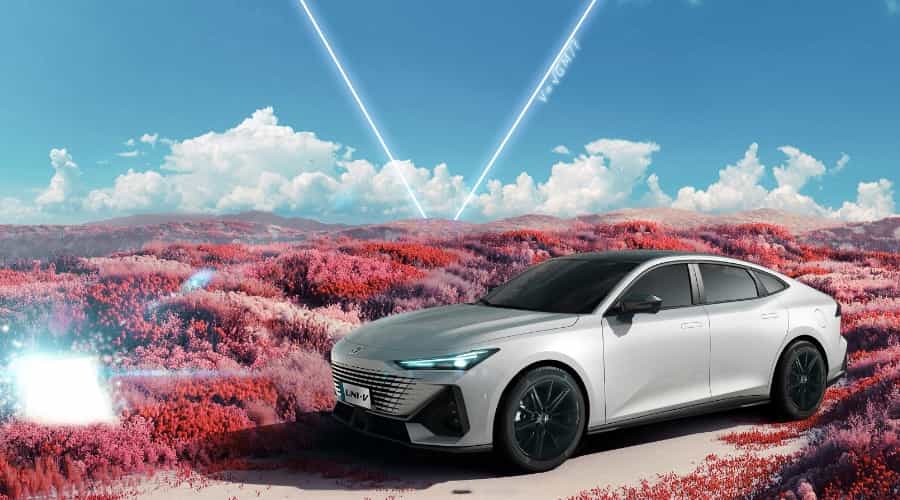 Muscat: Luxury sedan Changan UNI-V promises an exhilarating driving experience while embodying a perfect blend of sportiness, sophistication, and security. This exceptional model is loaded with state-of-the-art and opulent features, including a retractable rear spoiler, seamlessly integrated concealed door handles, and sumptuous leather seats, all contributing to its unparalleled allure. Moreover, the Changan UNI-V impresses with its cutting-edge technology, boasting a striking 10″ instrument cluster, a 10.25″ infotainment screen, and convenient wireless chargers, ensuring you stay connected and charged throughout your journeys.
Safety takes the centre stage in the Changan UNI-V, as it comes equipped with a comprehensive suite of protective features, such as a 360° HD Camera, automatic emergency braking, forward collision warning, and intelligent adaptive cruise control. With these advanced safety measures, you can enjoy every ride with peace of mind, knowing you are well-protected on the road. In essence, the Changan UNI-V is a masterpiece that elevates your driving experience to new heights, offering both luxury and performance in perfect harmony.
Spokesperson for Arabian Gulf Automobiles and Equipment (AGAE) says, "The premium UNI-V is a visually stunning masterpiece that leaves a lasting impression with its opulent interior, remarkable performance, and an extensive array of cutting-edge safety, security, and driving assistance technologies."
Under the hood, the Changan UNI-V harnesses the mighty Blue Core 1.5 L turbocharged engine, a true powerhouse that unleashes a remarkable 188 horsepower and an astonishing 300Nm of torque. Its prowess is seamlessly paired with a seven-speed dual-clutch transmission, ensuring a smooth and efficient distribution of power to the front-wheel drive system.
As a current mainstream standard A-class sedan, the Changan UNI-V boasts ideal dimensions, measuring 4680x1838x1430mm in length, width, and height, while its generous wheelbase spans 2750mm. These well-balanced proportions contribute to the UNI-V's overall stability and agile handling on the road.
The UNI-V continues its family tradition of a borderless grille and adapts a more agile and accurate design to help the model feel much sportier. It has exterior features that make it unique including 18" Alloy Wheels, Panoramic Sunroof, Split and Auto LED Headlamps, LED DRLs, ORVM – electrically folding, hidden door handles and rear spoiler.
Changan UNI-V's extraordinary interior looks formidable with its black interior, leather seats and contrast coloured seat belts which gives the Changan a luxury yet sporty feel. It boasts of ventilated six-way electric adjustable driver seat and four-way electric adjustable passenger seat.
The Changan UNI-V boasts a wide range of safety features, ensuring comprehensive protection for passengers. These include front airbags, side airbags, curtain airbags, BS + EBD + ESP + TSC + HHC + HDC + TPMS auto hold function, front and rear parking sensors, 360° HD Camera, 360° dashcam, adaptive cruise control, forward collision warning, automatic emergency brake, and lane departure warning.
Infotainment attributes include 10 instrument cluster, 10.25" infotainment screen, Navigation, Voice Control Function, mirror link with Apple CarPlay, wireless chargers, radio, Bluetooth, USB (front and rear) and eight speakers. It has comfort features such as electronic parking brake, keyless entry with push start button, remote engine start/stop, rear air outlet, paddle shifter, electric tailgate and rear seat centre headrest.