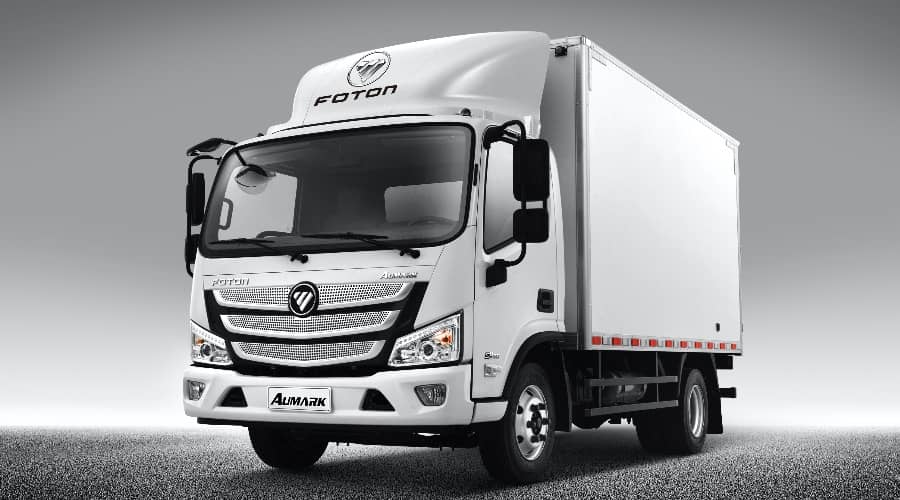 MUSCAT: Foton Aumark has emerged as a leading choice for those in need of a light duty truck, offering a compelling mix of features and value. Engineered to meet the specific needs of Omani users, it offers efficient and reliable logistics solutions.
The Foton Aumark three-ton light duty truck comes equipped with a Cummins engine and a 6-speed ZF manual transmission. These features contribute to its excellent fuel economy, top-notch safety, and superior performance in the logistics and cargo industry. With two wheelbase options, 3360 mm and 3800 mm, the truck offers a competitive range of features. These include cruise control, minimal engine noise, a reversing sensor, remote-controlled central door locking, ABS+EBD, and air with exhaust brakes, as well as power windows.
Ideal for both intra-city and inter-city goods transport, the Foton Aumark light duty truck incorporates cutting-edge technology to enhance the driving experience and ensure top-level safety. It stands out as an optimal choice due to its high load capacity, fuel efficiency, and extended service intervals of up to 20,000 kilometers. Offering a comprehensive solution for customized transportation needs, the Foton Aumark provides exceptional value for the investment.
The light duty truck features a top-tier turbo engine that balances robust power with excellent fuel efficiency. Its standout braking system enhances safety, while its exceptional loading capabilities are well-suited for long-distance hauls, ensuring excellent stability throughout the journey.
The Aumark light truck excels in performance, embodying Foton's commitment to creating innovative driving technologies that offer a tailored experience to customers.
The truck captures the essence of the Foton brand, featuring exceptional design, cutting-edge technology, and robust performance. Foton is dedicated to offering high-quality, cost-effective vehicles to global markets by leveraging both existing and emerging technologies. Through strategic partnerships with globally recognized manufacturers and key component brands, Foton has incorporated sustainable engineering, advanced systems, and the latest technology into each of its vehicles.
A spokesperson for Gulf Great Sands LLC said, "The Foton Aumark light duty truck has gained significant popularity in Oman, earning strong reviews from customers for its core strengths. Designed to meet the local demand for efficient and hassle-free logistics, the Aumark sets a global standard in its product class. Available in two wheelbase lengths of 3360 mm and 3800 mm, the 3-ton truck offers versatile configurations, including options for a cargo truck, refrigerator truck, light dump truck, and open cargo body truck."
Steadfast partner
Foton Aumark's dependable features like Cummins ISF 3.8L turbo diesel engine, Bosch electronics and ZF transmission make it a dependable logistic solution for city needs as well as short haul transportation needs of the industry such as fishing, poultry, furniture, grocery, recovery, water tanker and FMCG.
Great value
The Foton Aumark is fully customisable with versatile body options to make it a productive work tool for everyday use. Aumark is what a truck should be – solid, reliable and good value. The Foton Aumark – light duty truck is built on a new platform and positioned as a mid-to high-end professional logistics vehicle used to transport between cities in Oman. With Foton Cummins efficient power, the product will be greatly improved in power, fuel, noise reduction, and weight.
The Foton Aumark has experienced 1.6 million km road test, and diverse working conditions tests, including durability testing, reliability testing, stability test, high–low temperature testing, highland testing among others.
GULF GREAT SANDS LLC AND FOTON
Partnering with Foton Motor Group, one of the world's largest manufacturers of commercial vehicles, Gulf Great Sands LLC (GGS) have full range of commercial vehicles in Oman. Through this exclusive distribution partnership, Gulf Great Sands has commenced the supply of a range of Foton's commercial vehicles in Oman including the Foton View – High roof wide body 13-Seater Mini-Bus and Cargo Van, Foton Aumark – light duty truck (Diesel), Tunland Gasoline Pickups, View Mini- Buses, Panel vans, and Foton Auman – Medium Duty Truck.
FOTON – GLOBAL AUTOMOTIVE LEGEND
A global automotive legend with an extensive history, world-class rankings and impressive joint-ventures with internationally reputed companies, Foton has successfully positioned itself as a comprehensive commercial vehicle manufacturer. Gulf Great Sands LLC (GGS) is a part of the Bahwan International Group (BIG), an exclusive distributor for many reputed International automotive brands in Oman. Gulf Great Sands has a state-of-art service centre in Aziaba Muscat, to provide aftersales services to customers. GGS has already tied up for Periodic Maintenance Services in key cities including Jalan, Salalah and Sohar.
FOTON: CUMULATIVE SALES VOLUME OF 10 MILLION VEHICLES SINCE INCEPTION
With a business scope covering a full series of commercial vehicles, Foton has a record of an accumulative production and sales volume of approximately 10 million vehicles since being established in 1996. With a brand value which has been evaluated as about US$ 16.6 billion,
Foton has been ranked number one for 13 consecutive years in China's commercial vehicle arena. Foton, which has a partnership with Daimler of Germany, ZF and Cummins of USA, is eyeing a significant share of Oman market through this partnership. Daimler provides technology supremacy in Medium and Heavyduty Trucks. Cummins Diesel Engines are renowned for their longevity, performance, and economy. Foton is also partnered by Getrag (Germany), Aisin (Japan) and BorgWarner (USA) for transmissions, Bosch (Germany) for electronics and Dana (USA) for axles and differentials.
Foton products and services are available in 110 countries all over the world. Foton has five major warehouses internationally, including a regional parts centre in Dubai. Foton has joined hands with several well-known worldwide enterprises such as Cummins, ZF, CEVA Logistics, Faurecia, Wabco, Continental Electron, TUV Rheinland and others to establish "Foton Global Innovating Alliance", aiming to make breakthroughs in science and technology, and produce energy-saving, environmentally friendly and intelligently interconnected automobile products.
Drive Your Business with Foton
No. 1 commercial vehicle brand in China for Last 13 years
Exports of commercial vehicles from China for last 6 years
10 million vehicles sold worldwide
Present in over 110 countries
Fortune 200 company
Strategic Alliance Daimler, Cummins and ZF
World's Leading Technology Partners
Regional Parts Centre in Dubai
Strong Local Partner – Gulf Great Sands part of BIG.
Foton Models Available in Oman
Foton Aumark Light Duty Truck (3.8LTurbo Diesel Engine);
Foton Auman Medium Duty Truck (6.7L Diesel engine with 245 horsepower)
Foton Tunland Pickup (D/cab 2.0L Turbo Engine 4WD; 2.4L DC 2WD; 2.4L Pickup SC 2WD, All Gasoline only);
Cargo/Panel Van and Minibus (Cargo Van Wide Body & Narrow Body 2-seater, Mini Bus HR 13-seater