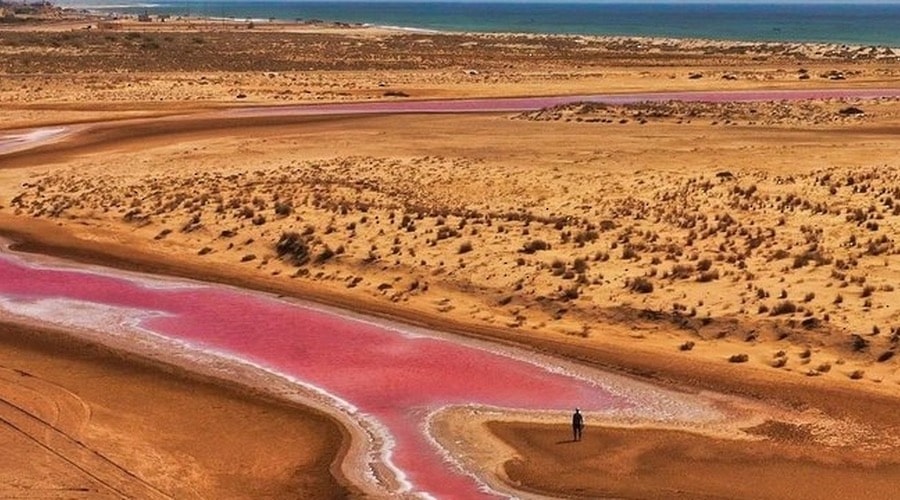 A view of the pink lakes in the Al Ruwais area in the Wilayat of Jalan Bani Bu Ali in the South Al Sharqiyah Governorate, which become an attraction for tourist destination in the region.
The Al Ruwais coastal areas in the Al Sharqiyah Governorate is one the beautiful regions overlooking the coastal strip of the Arabian Sea.
About 300 kilometers away from south of Muscat in the Wilayat of Jalan Bani Bu Ali, the Pink Lake of the Al Suwih village take a little over 3 hours by drive.
The coast of Jalan Bani Bu Ali, which stretches for approximately 180 kilometers, is the ideal location for camping, hiking, mountain climbing, and even seeing many migratory birds, including pink flamingos. But why are the lakes pink in color? The primary cause of the distinctive pink color of Oman's pink lakes was investigated and the results were caused by bacteria and a species of algae called Dunaliella Salina. This algae contains unusually high levels of B Carotene and salt. It also harbors a variety of unharmful bacteria, including Bacillus Megaterium and Bacillus Subtillis. But, believe it or not, a bacteria known as halobacteria is the cause of the distinctive pink color.