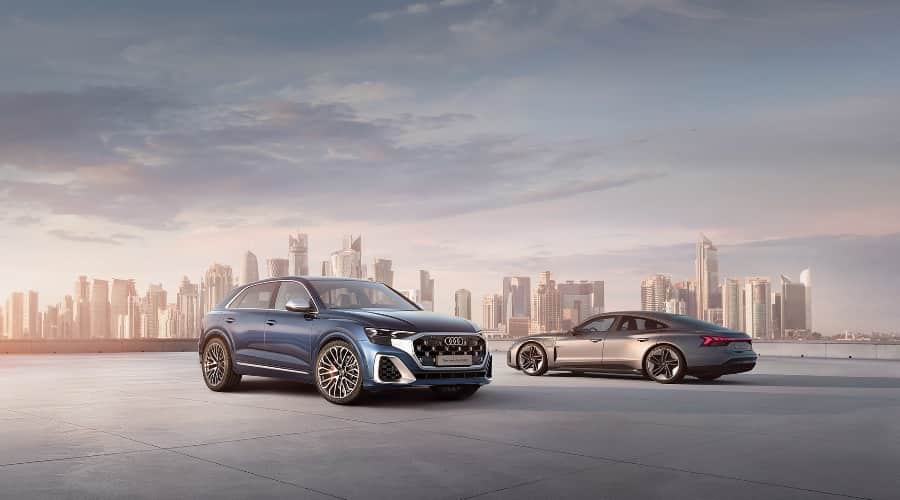 MIDDLE EAST: Audi Middle East and Audi Qatar announce the brand's participation and activities in the prestigious Geneva International Motor Show in Qatar. The event will see Audi marking significant milestones as the brand is set to launch its much-anticipated Q8 model globally and showcase for the first time in the region the Audi Formula 1 project show car, providing a glimpse into the future of mobility and motorsport.
Audi has showcased the significance of the Middle East for the brand as visitors will have the exclusive opportunity to witness the world premiere of the Audi Q8, the flagship of the Audi SUV line-up, during the show. The arrival of the Audi Q8 in Qatar, showcased in its SQ8 derivative, holds profound importance for the region's automotive landscape. With its 507hp V8 powerplant and quattro all-wheel drive, the unveiling underscores Audi's commitment to meeting the unique preferences and demands of Middle Eastern customers.
This extraordinary luxury SUV combines a striking and unforgettable design with innovative technology and unwavering performance. Its expansive, lavish and spacious interior transforms every journey into an extravagant voyage, guaranteeing an unparalleled first-class experience that leaves both the driver and passengers in awe.
Adding to the excitement, one of the many highlights of the momentous occasion and participation is the arrival of the F1 Showcar with Audi Launch Livery to the Middle East for the very first time – a significant step forward as the brand enters motorsports pinnacle series from 2026 onwards.
In addition to the Formula 1 project showcar, Audi will also display a range of other exceptional models at the Geneva International Motorshow in Qatar. These include its all-electric e-tron range, the Audi RS e-tron GT and the Q8 e-tron, in addition to the Audi S8 and Audi exclusive RS 7, each representing Audi's commitment to providing a diverse and innovative line-up that caters to the varied customisation preferences of our customers in the Middle East.
As the brand goes above and beyond with its unique presence during the motorshow, Audi underlines the importance of the Middle East. Adding to the sheer display of cars and presence during the motorshow is a presentation by Audi's newly appointed Managing Director for the Middle East Region, Mr Rene Koneberg, reflecting on the brand's regional momentum.
Visitors can pass by the Audi stand in GIMS QATAR to get a first-hand look at the F1 Showcar with Audi Launch Livery and the exclusive selection of Audi's top models present. GIMS QATAR opens its doors to the public on 7th October and runs until 14th October.