Amman: Delegated by His Majesty Sultan Haitham bin Tarik, Sayyid Badr bin Hamad Al Busaidi, Foreign Minister, headed Oman's delegation participating in the 2nd edition of Baghdad Conference for Cooperation and Partnership, which was held in the Hashemite Kingdom of Jordan, in the presence and patronage of King Abdullah II Ibn Al Hussein of the Hashemite Kingdom of Jordan, President Emmanuel Macron of the French Republic, and Mohammed Shia' Al Sudani, Prime Minister of the Republic of Iraq.
The conference aims to consolidate cooperation side by side with the Republic of Iraq in facing challenges, enhancing security and stability, combating terrorism, and backing its efforts in achieving economic development and reconstruction.
Sayyid Badr Al Busaidi, Foreign Minister Affairs underscored in his speech the importance of the conference in exchanging views and consultations on the overall challenges facing the region and the world at large in a bid to achieve the desired positive cooperation among countries. He also affirmed the solidarity and support of the Sultanate of Oman to the Republic of Iraq.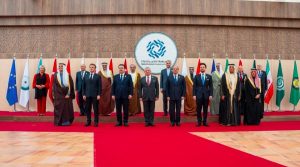 The minister also touched on the importance of cooperation in climate change issues as well as the efforts of Oman within the framework of the national strategy to combat climate change and pressing ahead to achieve net zero carbon emissions by 2050.
The minister also held meetings with heads of delegations participating in the event. – ONA