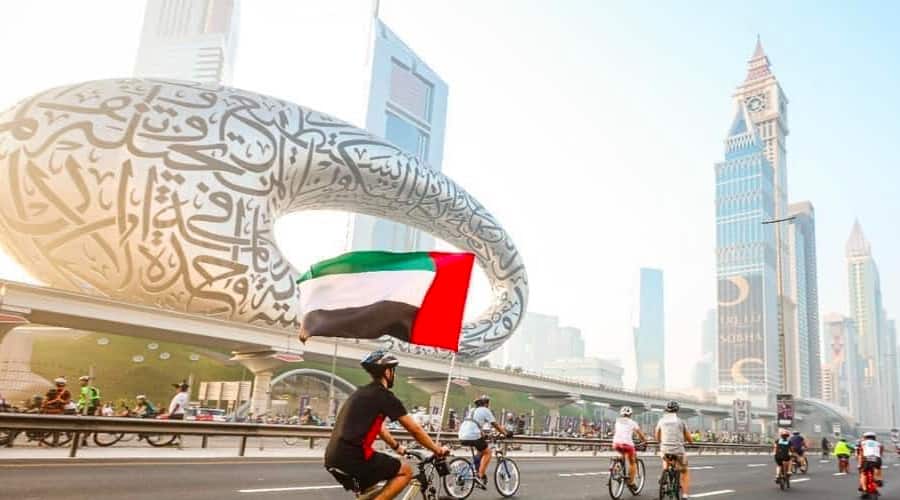 The United Arab Emirates (UAE) Government Announces today that it will transition to a four and a half day working week, with Friday afternoon, Saturday and Sunday forming the new weekend.
All Federal government departments will move to the new weekend from January 1, 2022.
In compliance with the UAE government decision, Dubai government announces a 4 & a half day working week for public sector employees. The weekend has been changed to Saturday & Sunday, with Friday being a half-day. The changes will be effective as of January 1, 2022 across all govt entities
The changes to the working week system also include new official working hours. Public sector employees will be expected to work from 7:30am to 3:30pm from Monday to Thursday (8 hours) and 7:30am to 12:00pm on Fridays (4.5 hours).
Friday sermons and prayers to be held after 1:15 pm all year long in UAE
Possibility of flexible working hours and work-from-home options on Fridays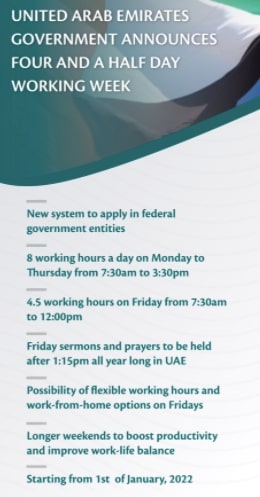 Abu Dhabi Government to implement a four and a half working days week, with weekends moved to Saturday and Sunday, with a half-day starting 1 January 2022, in line with the UAE's vision to enhance its global competitiveness, and keep pace with global developments.
Longer weekends to boost productivity and improve work-life balance.
In 2006, the UAE government switched its official Thursday-Friday weekend to Friday-Saturday.
This was done to help business relations by increasing shared office hours with western countries and to provide a more familiar structure for international visitors.