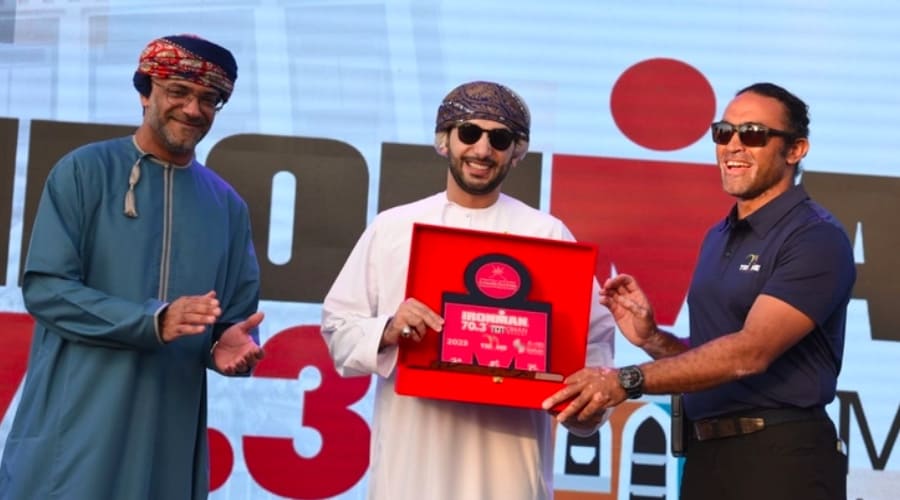 Muscat: The Ironman 70.3 Oman Championship hosted by the Sultanate of Oman represented by the Ministry of Heritage and Tourism, concluded this evening, and lasted for 3 days in Al Qurum Beach, with the participation of more than 800 participants representing 63 countries.
The closing ceremony of the race was sponsored by His Highness Sayyid Fahr bin Fatik Al Said, in the presence of His Excellency Azzan bin Qasim Al Busaidi, Undersecretary of the Ministry of Heritage and Tourism.
Ilya Slepov was able to win the race, while Brian Van Rooten came second, and Rafael Domingos third.
In the women's version of the tournament, Krista Cociar took first place, followed by Lisbeth Lesin in second place, and Michelle Nagle in third place.
At the start of the tournament, which was the first and largest event in the 2023 season series in the Middle East, the participating athletes lined up at the starting point in the Shatti Al Qurum neighborhood in the capital, Muscat.
Competitors took a course through the magnificent scenery of the capital, where the race included three stages: a 1.9-kilometer (1.2-mile) swim race, a 90-kilometre (56-mile) bike race, and finally a 21.1-kilometre (13.1-mile) run.
The total distance of the race is 113 kilometers, which is equivalent to "70.3" miles. The tournament, organized by Triathlon Middle East Company, also included the Iron Man Village and the Iron Child race in Muscat.