Muscat: Oman Chamber of Commerce and Industry will hold "Muscat Awards" exhibition and forum in August 2023.
The event, which will be held in Oman Convention and Exhibition Centre (OCEC), will focus on tourism investment opportunities, especially those in the fields of sport tourism and real estate in the Sultanate of Oman.
Muscat Awards aims to highlight available investment opportunities and projects in Oman in a bid to attract foreign investments in those fields.
This was announced by Faisal Abdullah Al Rawas, Chairman of OCCI, during a press conference held here today.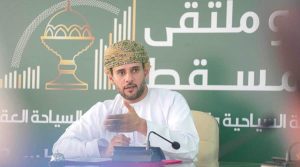 Al Rawas said that holding this event comes within the framework of showcasing projects and investment opportunities in Oman, including those in the tourism sector, such as the setting up of resorts, hotels, integrated recreational cities, waterparks and other projects, as well as opportunities in the sports field that include sports medical cities, events and holding international sports tournaments in Oman.
The Chairman of OCCI pointed out that the event is expected to be participated by 150 investors from Oman and other countries. Activities of the event will include several discussion panels and the signing of a number of tourism agreements. Further, an exhibition will be held on the sidelines of the event. -ONA