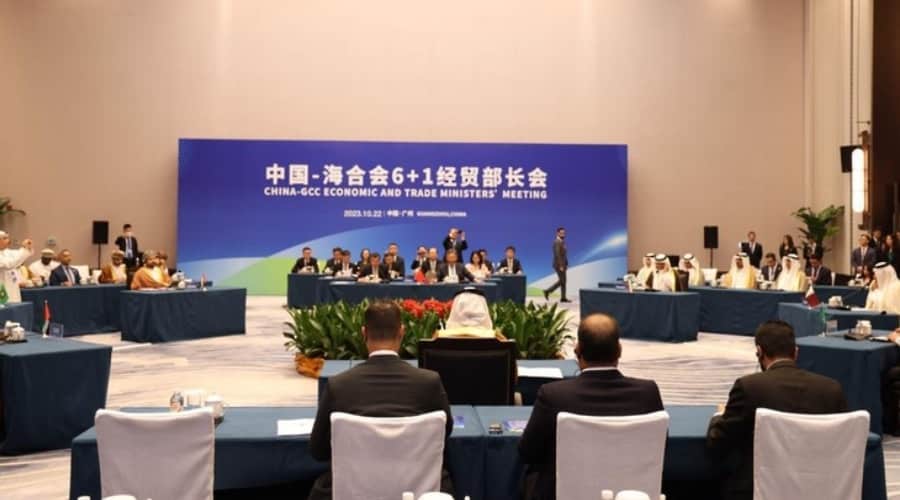 Guangzhou: The Sultanate of Oman took pat in the 1st session meeting of the GCC-China Economic and Trade Ministers, which was held in Guangzhou, China, today with the participation of Jassim Mohammed Al Bidaiwi, GCC Secretary General.
The meeting discussed a set of topics related to the economic and commercial aspect to enhance joint Gulf-Chinese action, including the smooth flow of intra-regional trade.
Oman's delegation was chaired by Qais Mohammed Al Yousef, Minister of Commerce, Industry and Investment Promotion. The meeting discussed means of enhancing internal and external trade, reviewing and evaluating the unified and approved trade laws.
It also addressed the draft laws in the GCC countries, the unified strategic framework for the free trade agreement, and the consensuses and initiatives on economic and trade cooperation that were reached at the Gulf-China summit held in Riyadh in December 2022.
The meeting underlined the importance of stable and reliable energy supply for trade, industry development and investment, as member states expressed their support for the continued trade of crude oil, natural gas and petroleum derivatives between the GCC countries and China, and utilizing the Shanghai Oil and Gas Trade Center platform to carry out settlement in the Chinese currency, the renminbi, during Oil and gas trade.
The joint meeting also explored the possibility of cooperation in the field of e-commerce and conducting local currency exchange business between the People's Republic of China and the GCC countries. – ONA