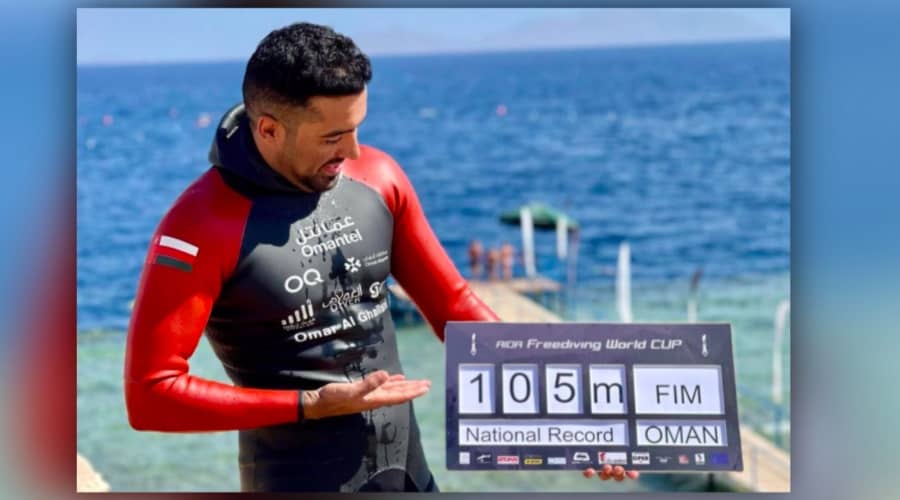 The Omani champion Omar Al Ghailani sets a new national record in the AIDA Free Diving World Cup (October 2022), in which he is currently participating.
Omar Al-Ghilani said, he was able to dive to a depth of 105 meters in the specialty of pulling the rope with one breath, and in a period of 3 minutes and 59 seconds.
Al Ghailani indicated that registering this number means that the Sultanate of Oman has entered the list of competing numbers above 100 meters in this discipline, stressing that he is still the first in this discipline, with only 3 days left until the end of the tournament.
Regarding his participation in this tournament, Al-Ghilani said: This tournament for me is very difficult at the end of the heavy season. There are waves and we have to train because there is no other chance and also to be fully prepared for the tournament, other than that, the water is getting colder and we are trying to finish the tournament as soon as possible so that we are not affected by the cold water, especially as we enter the winter season.
As for the difficulties he faced, Al-Ghilani answered that: We face many difficulties, such as fatigue and danger in the game, and the gradual increase in depth and danger, which may cause injuries. A person has a specific goal, he forgets the difficulties, and my goal is to represent the country and achieve more honorable numbers.
It is worth mentioning that the Free Diving World Cup (AIDA October 2022) includes 34 players from 24 countries, which started on October 23 and will continue until October 30, 2022 in the Arab Republic of Egypt (Sharm El Sheikh).