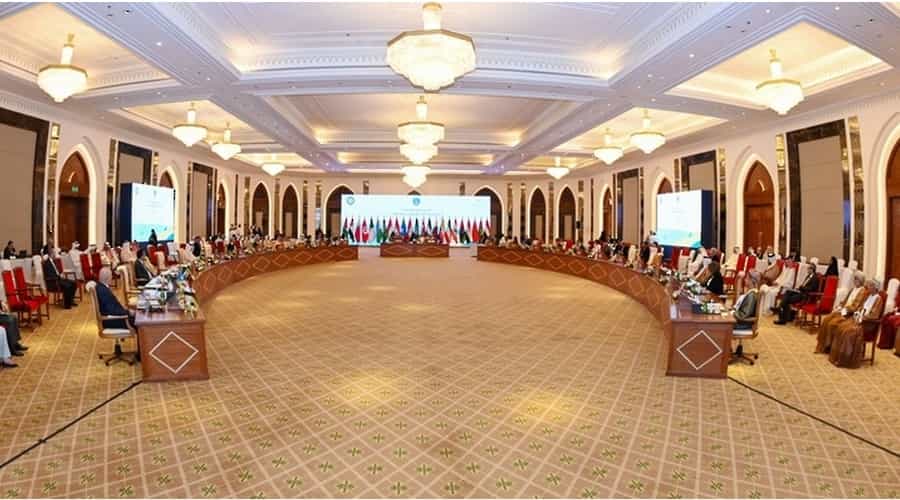 Muscat: The Council of Arab Ministers Responsible for the Environment today issued a statement on the sidelines of its 34th meeting held in Muscat.
The statement reads as follows: "Given the barbaric aggression of the Israeli entity against the Palestinian people in occupied Palestine in general and Gaza Strip in particular, the aggression that left thousands of people dead, tens of thousands wounded and hundreds of thousands homeless—notably women, children and elderly people, the aggression that left Gaza unlivable and its infrastructure totally demolished, including hospitals, schools, and places of worship, we, in the Council of Arab Ministers Responsible for Environmental Affairs, condemn the brutal aggression against the Palestinian people. We consider this barbaric act a humanitarian and environmental crime. We strongly deplore such action that threatens the life of Palestinian people and destroys the whole environment in an unprecedented manner."
The statement comprised 7 points:
Firstly, that the Israeli occupation forces have waged this aggressive war relentlessly and with all its power and arrogance, using all types of weapons and bombs, including the use of internationally prohibited weapons.
Secondly, that the bombing destroys all environmental and agricultural infrastructure and projects and leads to the degradation of lands, natural habitats, biodiversity, and vegetation on land and marine environments.
Thirdly, the bombing demolishes health, social, cultural, educational and religious facilities, infrastructure and environmental facilities, and agricultural lands, without regard to the consequences on public health, the environment and human life.
Fourthly, the massive destruction leads to the production of large quantities of waste and rubble, which includes dangerous pollutants from the internationally banned bombs and weapons.
Fifthly, the bombing leads to the displacement of hundreds of thousands of Palestinian citizens within Gaza Strip, leaving them homeless and endangering their livelihood and depriving them of necessary resources.
Sixthly, the Israeli occupation is tightening the siege on Gaza Strip, preventing access to all life-supporting materials, besides cutting off supplies of electricity, water, food and medicines. Seventh, the occupation forces' ban on fuel and power supplies has disrupted all aspects of life and services, making hospitals unable to provide services to citizens, especially in such difficult circumstances—when thousands of people are killed and tens of thousands of others injured.
The aggression also made it impossible to operate wastewater pumps and treatment plants, leading to the pollution of soil and fresh water supplies.
Also, the Palestinian people have been deprived of access to all water supplies, including water from desalination plants, purchased water supplies and groundwater supplies. Thus, the Palestinian people have been left with only 5% of the quantities of water that were available before the aggression. It should be noted that 95% of the groundwater in the Gaza Strip is completely undrinkable.
The statement called on the international community, with all its institutions and bodies, especially the environmental and health ones, to take immediate action against the aggression staged at Gaza Strip. It urged the international community to prevent the genocide and mass displacement of Palestinian citizens.
The statement also demanded that the siege on Gaza Strip be lifted, besides the restoration of what has been damaged to avoid further negative consequences in Gaza Strip. It also called for an immediate investigation into the catastrophic outcomes of this war on the environment and the use of various types of prohibited weapons. – ONA